KING TOMB (Forever Evermore, #3)
Publication Date: October 8, 2014
From Scarlett Dawn comes the stunning, sexy, sensual, surprising, spellbinding conclusion to the bestselling, first Forever Evermore trilogy.
Queen Shifter, Lily Ruckler, has found solace in brutal warfare. Her bloodied fists and bared fangs fill the holes left in her memory, the blank spaces that leave her soul aching and empty. Her only pleasure is in blood; her only salvation is the relationship she has with her infant child, the baby of unknown origins who brings her solace and stability.
When Elder Harcourt summons Lily and her protector Antonio back to the United States, Lily thinks nothing unusual about the change of location. But a standard reconnaissance mission leaves her trapped inside King Zeller's private quarters, and at his mercy. Surprise attraction rapidly turns to a battle of wills and an intense power struggle that leaves no clear victor but plenty of resentment.
They are not allowed to nurse their wounds. In order to win the war against the Commoners, the King Vampire and Queen Shifter must work together. It should be easy. The war is turning, the battle is deadly, and both Lily and Ezra love the cold cleanliness of combat.
But their chance meeting has led to more than an unlikely alliance. Secrets have a way of surfacing, especially on a torn-up battlefield, and Lily and Ezra are about to re-learn all they cannot remember. If they can't control their emotions and responses, it will be to their own ruin and the destruction of everything around them.
(It should be up on B&N shortly)
************************************************************************
Have you ever had a moment where you look at your TBR list and think..."I have nothing to read". Which is a ridiculous thought because, if you are a true bookie, you know at any given time you have 100+ books waiting to be opened and enjoyed. Yet still, there are days when you just want to find that gem that hits you out of nowhere and completely kidnaps you with no chance of escape.
It was one of those days for me.
I had gone through my TBR list, scoured the free/99¢ listings on Amazon and trolled through my favorite blog sites to see if something caught my eye... and nothing.
So I went to my FB profile and opened a message from a friend. At the end of this message, almost like an afterthought, it read...
Hey, have you read King Hall and King Cave by Scarlett Dawn? I stumbled upon them a couple days ago and haven't been able to put my Kindle down since. I think you would really like them.


Two books downloaded, one Sexy hot alpha vampire and a sassy little wolf s
hifter later... and I was hooked!
Scarlett has a way of writing that sears her characters into your being. She brings you into their world with her words and traps you there. She writes strong female characters with power and personality. Her male characters are the perfect mix of sweet and alpha. And by the way, this woman can write some steam! You will not be left disappointed by what happens in the bedrooms!
The flow of her writing style keeps everything moving, constantly making you wonder where she is leading you... You blindly follow because these are the type of books that have you racing to the end to see what happens. Before you realize it, it's 2:00 AM, the first book is done, and you can't start the next one fast enough.
So you can imagine how happy I was when I was able to sign up for an ARC of King Tomb!
I could go on and on about this series, the characters and the plot of these books but I won't. I will say, however, that I am so happy that I opened that message. I found my gem and it turned out to be a mix of amazing writing, exciting plot twists, and an ending fit for a Vampire King and Shifter Queen.
Scarlett Dawn has skyrocketed to one of my favorite authors and as long as I have one of her books on my TBR list... I know I won't have to go far to find my gem.
I am giving each book and the entire series FIVE HEARTS.
Have you read King Hall, King Cave and King Tomb by Scarlett Dawn? If not, do it now. I know you will love them!
This series was recommended to me by Micki. One day she told me she was reading this awesome paranormal book with some sexy vampires and I HAD to read it. Even though Contemporary Romance or New Adult is my usual genre of choice, I do love me a good paranormal every once in a while. And since I trust Micki's judgement, especially when it comes to hot, alpha vampires, I started reading this series. Let me just say that I have thanked her many times for the recommendation!
I LOVED these books! Absolutely devoured them, obsessed about them, ate them right up. After reading King Hall (bk 1) and King Cave (bk 2), I could not wait for this book!
With the intense ending in King Cave, I dove right into King Tomb. The characters were still amazing – the chemistry between Lily & Ezra electrifying. These two are so powerful, so passionate…certain scenes will leave you breathless. And it wasn't just these two that I loved. I felt a connection to every character in this book - even the ones that I loved to hate.
Scarlett Dawn's writing flows smoothly, makes you visualize every last detail, and takes you away – making you forget about the real world around you. You will want to sneak-read at work and crawl into the pages to be part of the story. When the author can make you feel so many emotions throughout the book, that (to me) makes a rock star author. I am now a huge fan of Scarlett Dawn! King Tomb gets FIVE amazing hearts from me!
************************************************************************
❖
❖
OTHER BOOKS IN THE SERIES
❖
❖
Book #1 - King Hall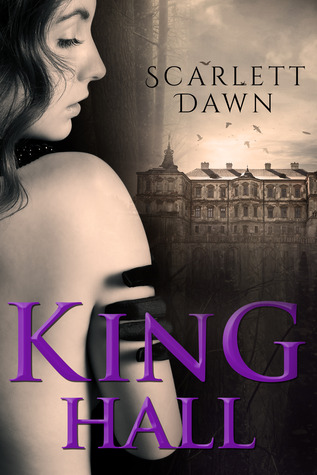 Amazon US / Amazon UK / B & N
Book #2 - King Cave
Amazon US / Amazon UK / B & N
*********************************************************************************
Scarlett Dawn is drawn to all things quirky and off-beat. She believes there are no boundaries for an imaginative soul. Her love of the written word started at an early age, when her grandmother would take her to bookstores every weekend. Dreams came alive within the books she found there, and now, she is thrilled to share her stories with others who have fallen under the spell of taking fantastical journeys. Scarlett resides in the Midwest with her husband, three children, and two dogs.